That's us. My mom and our friends
Pam
and Carol and I went to Williamsburg yesterday to go to my favorite yarn shop ever,
Knitting Sisters
. And we had a blast. I don't know if I can sufficiently chronicle the day, but I'll try. This is Friday's yarn pr0n post, because believe me, we went to
the
yarn shop.
First of all, it was glorious enough to be back in my beloved 'burg. And on a beautiful day, no less. I was so excited, I started doing the Charlie Brown dance. Yeah.
We did walk around a bit: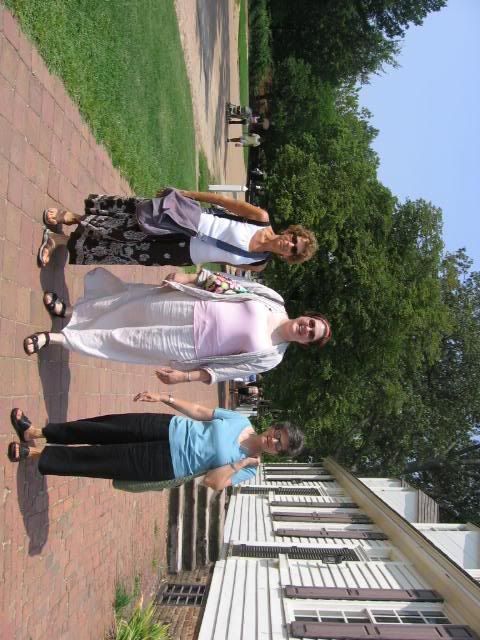 And had lunch at the Trellis: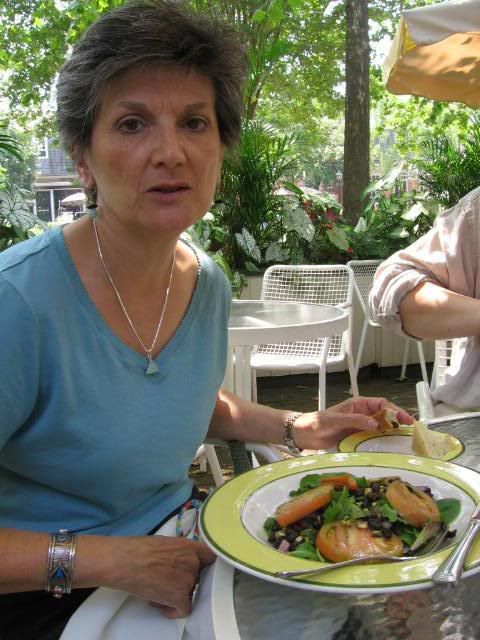 *yum* (Sorry, Mom, I know it's not a great picture, but the one of Pam and Carol on the other side of the umbrella pole is less flattering...)
And then it was off to see the Sisters. When I tell you that it is a yarn utopia on earth, I am exaggerating not at all. I mean, look at this stuff in its natural habitat: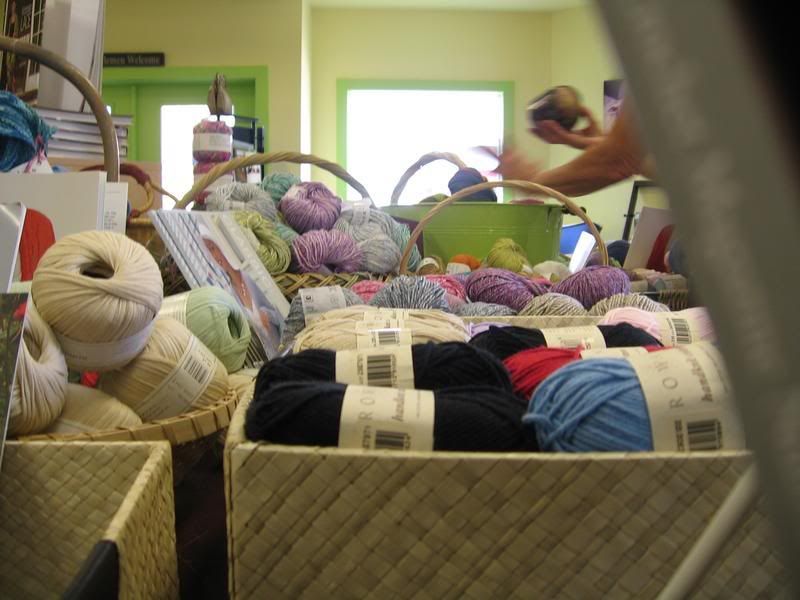 And being petted by ravenous hunters: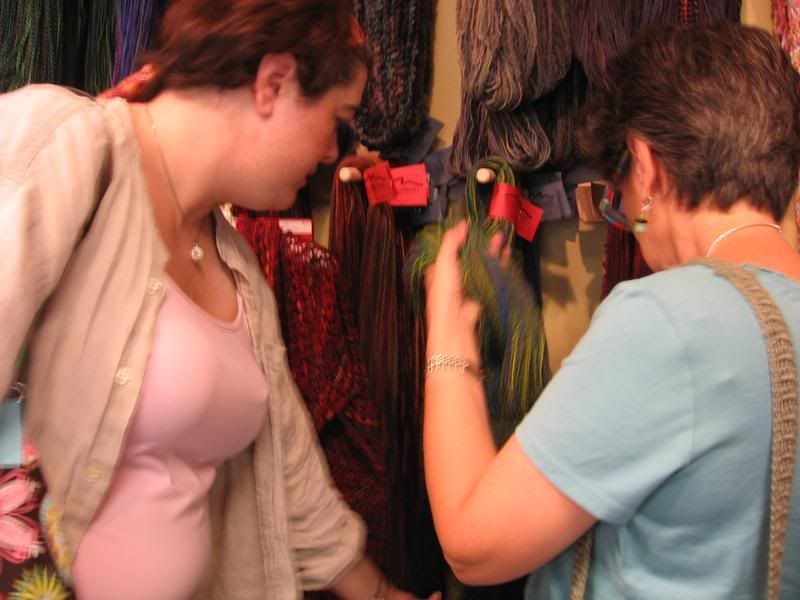 The intrepid hunters considering their prey: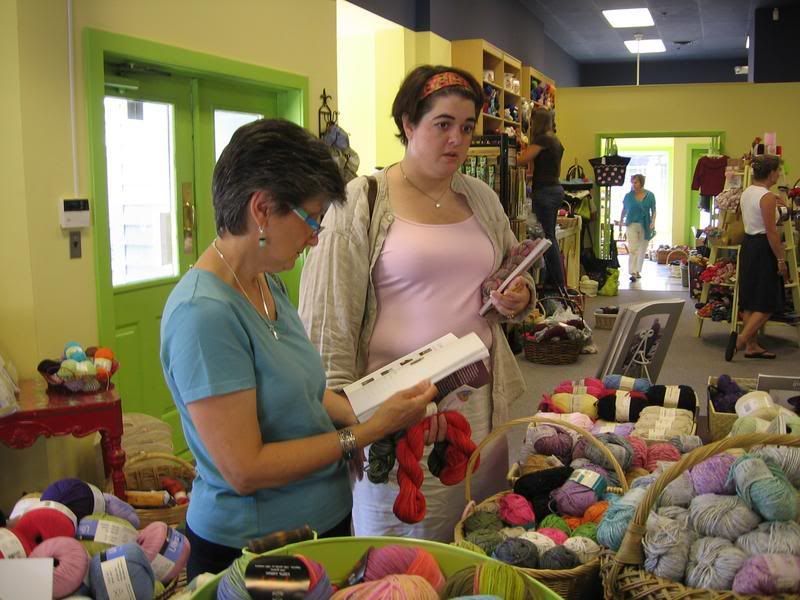 And being shocked by a particularly fine specimen (sorry Carol, you knew I had to post this one...teahee...):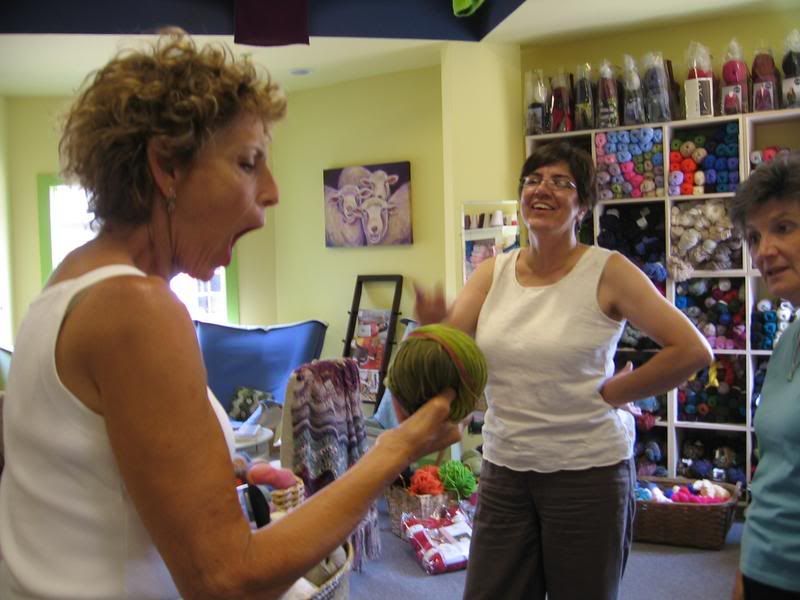 (That's Ty-Dy from Knit One, Crochet Too... yum)
Pam's trophy: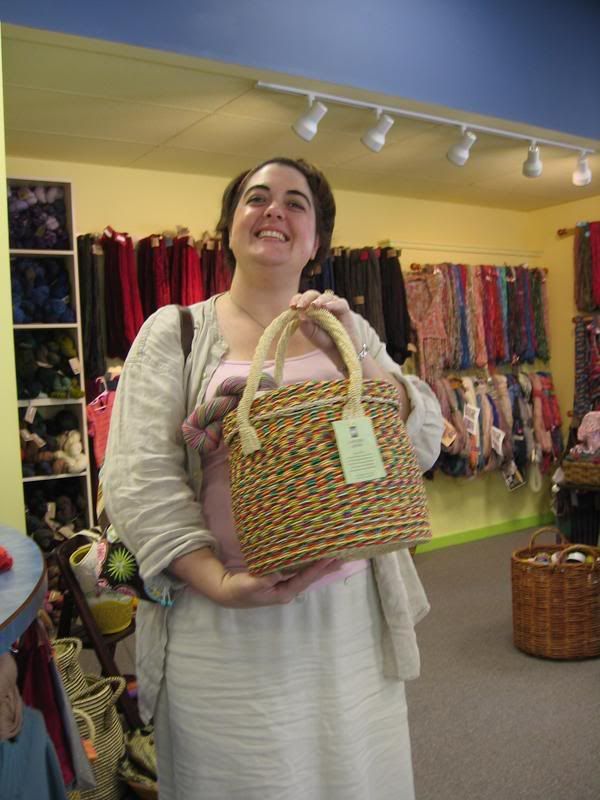 (In her words, it jumped out and said "Hi! I'm coming home with you." Oh Lantern Moon, how we love thee...)
Pam wouldn't let me get away without having my own picture taken, so as we were enjoying the obscenely comfortable Knitter's Chairs, she seized my camera and snapped this: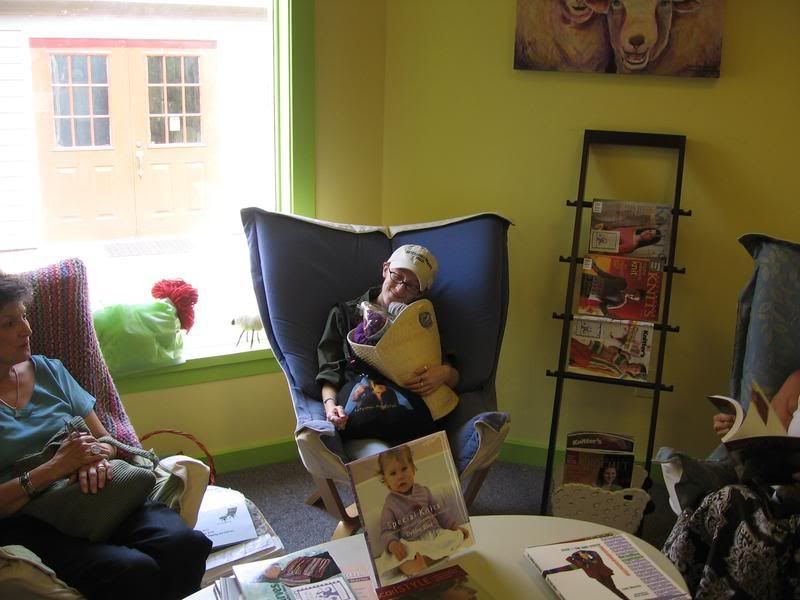 *glee*
Carol found a sweater that had been a sample for the shop but they were selling it because they no longer carry that yarn, and she had to have it. But shh, don't tell anybody she bought it there, because her story is that she made it... while we were there... which means she whipped it out in about an hour and a half. Impressive, no?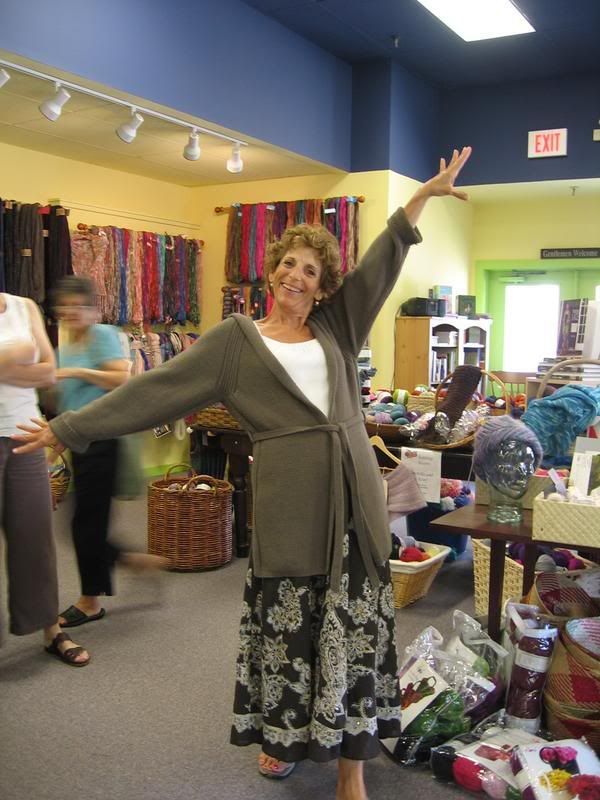 It was so much fun. And Kathy, one of the three owners, was so wonderful to see. She's the one in the background of the Ty-Dy picture. Mom and I miss her as much as we miss the shop itself. Perhaps more. She's just really a delightful person. That's what really makes the difference there. The yarn shop itself is absolutely beautiful, but if the people there weren't nice it would be a miserable place to shop. As it is, the shop is beautiful and so are the people. They're just so friendly and fun and you can go to shop there and have a wholly wonderful experience. The ladies are happy to help you, to chat, to get to know you, to recommend patterns for yarn and vice versa, and just generally be not just a seller but also your friend. I hate having to leave the Knitting Sisters behind. That place is like an opium den. It's where you go to get addicted.
Continuing in that intoxication theme: After getting our yarn high, we went to the nearby bead store, Bead Haven, and got our bead fix. Gotta have the shinies. And so we got beads with which to make stitch markers. Naturally. I mean, what, do you expect us to do something unrelated to knitting with these beads? Puh-leeze. Anyway, that was a lot of fun too, though we didn't spend quite as long there.
And so, on this yarn-and-shiney high, we proceeded back to Colonial Williamsburg to walk down Duke of Gloucester Street again, this time to Chowning's Tavern for drinks. It was on the way there that we were talking about how fun it was to travel together for yarn and road tripping goodness, and remarked that we'd formed our own family of knitting sisters; we then dubbed ourselves the Sisterhood of the Travelling Stash. Or
SoTS
for short :P Which, given all the jokes we were making about yarn fumes and being intoxicated by yarn, is kinda appropriate. We are, in fact, yarnaholics. Hi, I'm Carrie, I have a yarn problem... Anyway, back on topic, we got our colonial-style drinks in the recreated colonial tavern:
Yes, the picture is fuzzy. Everything was a little fuzzy to me, that Hospitality Punch of theirs is strong and I am quite small (pocket sized, remember?). We also learned an excellent dice game, for which I remember the rules so don't worry Carol, I can remind you :)
The worst part of the day was having to come back. It ended all too soon. Eating dinner at an Applebee's at 10:00 pm, I realized that even worse would be having to get up for work this morning. Pam suggested I call out sick. Of course, I said... I'll tell them I have a terrible yarn-over! *rim shot* This, however, was not to be. I did have a yarn-over this morning. I did not call out of work. No work, no monies. Need monies, thus need work. Blargh. At least I got to take my lunch hour to go to our knitting circle today, though. Hair o' the dog, as it were... I can't wait for the next yarn safari though. I need a sign: Have Stash, Will Travel!