...over a week. Again. I'm sorry. I haven't had much to post. No spinning progress as of last Monday, no discernable progress on the Razor Cami (it all looks the same, I mean really), and okay I didn't post Friday because I didn't have much time. Also, I was out knitting two nights, and cooking one. And Friday I decided to sit down at my wheel for once and pretend that I actually spin sometimes. It worked. Here's what I did:
I took this:
And made it this: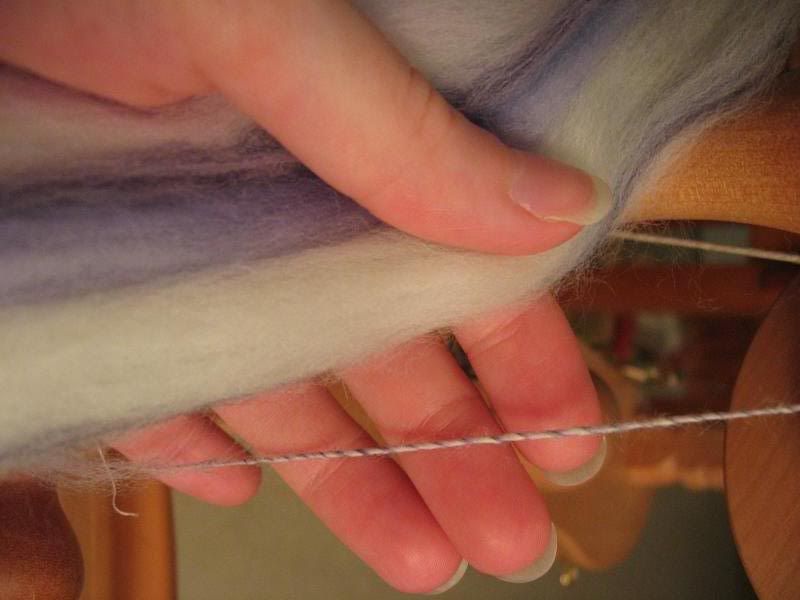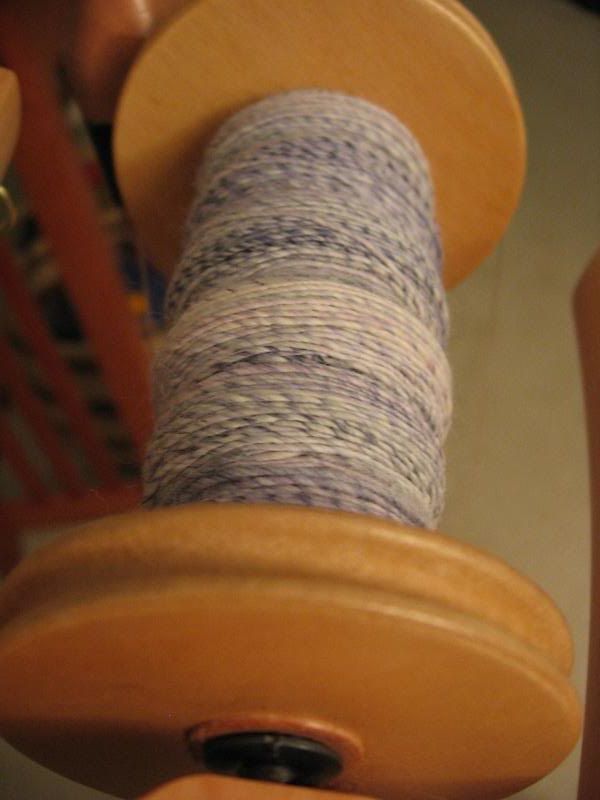 In case you're wondering, it's merino in the "Thistle" colorway from my friends at The Drafting Zone. I'm trying to spin it as fine as I can without losing my mind.
Also, this weekend my parents and I went to the National Museum of the American Indian (so is that the politically correct term now, not Native American? I'm so confused) to see the exhibit on American Indian dresses. WOW. The amount of work and the amazing skill that these women put into these dresses is remarkable. They are absolutely beautiful. And there are women who still make dresses with the same techniques today. It's an amazingly wonderful tradition. If anybody has the chance to go to the exhibit, you really should.
Of course, I needed something to do on the Metro, so I had my little spindle with me, with the Denim merino I'm working on, and I spun on that. On the way into the city there was a little girl that seemed to be peeking over her seat at me a couple of times, but on the way back out a gentleman came up and asked me if I'm a weaver, and if what I was using was a spindle whorl. He said he'd seen them in archaeology but never known how they were used. I explained that I knit and crochet, and showed him how I spin. He asked if it's less expensive to make your own yarn... heh, I had to tell him it's not particularly so anymore. There are so many gorgeous fibers out there, and so many of them are so expensive! But worth every penny :D